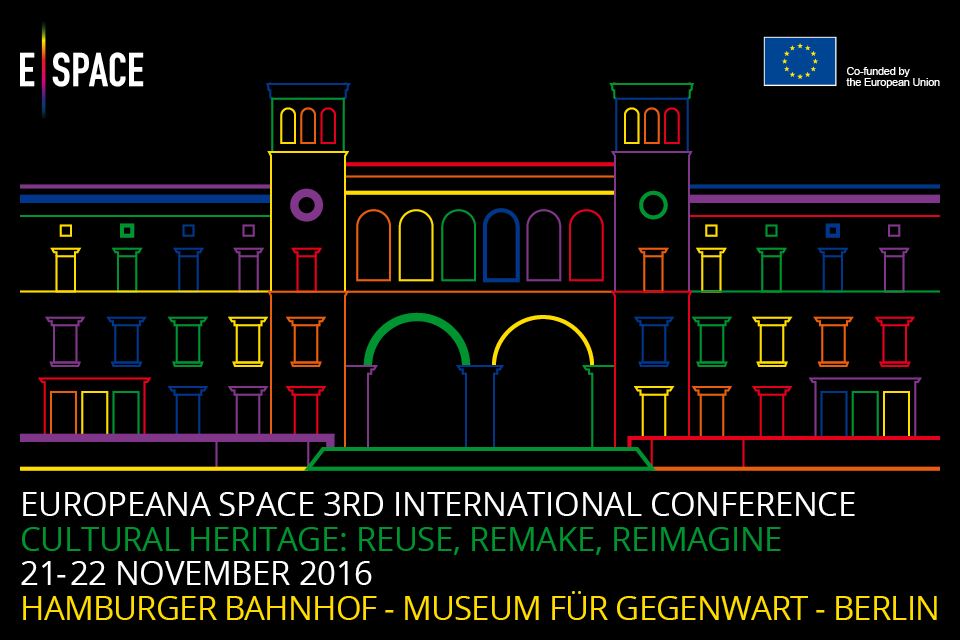 Hidden in museums, archives and libraries around Europe sit artifacts that tell a story and are waiting for their day in the sun. The Cultural Heritage institutions began to digitize these artifacts making them available online, so that users would discover them and find value in learning more about Europe's cultural heritage. Digitization is progressing and more hidden treasures are becoming visible. However, in today's digital society existing on the web is not enough. Audiences want to engage with culture, they want to create their own stories not just read the ones that exist, they want to integrate the information in their teaching, their creative projects, they want to play with the material, not only look at it. They want to reuse, they want to remake, they want to reimagine.
The Europeana Space project is a catalyzer for generating new ways of engaging with digital cultural heritage through creative reuse in education and learning as well as in the creative industries. Cultural Heritage: Reuse, Remake, Reimagine, the third conference from the Europeana Space project, showcased the myriad ways that cultural heritage can be used and enriched through new technologies, innovation and the ingenuity of the creative industries.
DOWNLOAD THE CONFERENCE FLYER (PDF, 304 Kb)
The video recordings of the four sessions of the conference are available on E-Space YouTube channel.
Cultural Heritage: Reuse, Remake, Reimagine
Monday 21st h. 9.00 to Tuesday 22nd h. 13.00
DOWNLOAD THE DETAILED AGENDA (PDF, 359 KB)
Confirmed keynotes: 
Confirmed chairs:
And also featuring:

---
Networking session of EC-funded projects (upon invitation)
Tuesday 22nd h. 14.00 to h.16.00
Hosted by E-Space, this was a concertation meeting where EU projects and other similar initiatives in the field of cultural heritage could meet, present and share outcomes and knowledge, and also plan joint actions and initiatives. INFORMATION ABOUT THE NETWORKING SESSION.
---
Programme Committee:
Sarah Whatley (Coventry University)

Monika Hagedorn-Saupe (Stiftung Preußischer Kulturbesitz, SPK)

Antonella Fresa (Promoter SRL)

Fred Truyen (KU Leuven)

Kamila Kuc (Goldsmiths)

Tim Hammerton (Coventry University)

Tiziana Lombardo (Fondazione Sistema Toscana)
Organization Committee:
Sarah Wassermann (SPK)
Arlene Peukert (SPK)
Frank von Hagel (SPK)
Valentina Bachi (Promoter SRL)