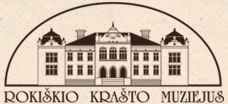 Rokiškio krašto muziejus yra Lietuvos muziejų asociacijos narys is an institutional member of the Lithuanian Museums Association.
Muziejus buvo įkurtas 1933 metais, jame kaupiami ir saugomi fotografijų ir fotonegatyvų, numizmatikos, dokumentų, knygų, archeologijos, istorijos, lietuvių liaudies meno bei  profesionalios dailės rinkiniai.
Muziejaus tikslas – ne tik rinkti, saugoti, bet ir tinkamai prižiūrėti, restauruoti, konservuoti muziejines vertybes, kurių yra sukaupta per 100000 vienetų.
Kasmet muziejus sulaukia per 50000 lankytojų, kurie gali apžiūrėti Rokiškio krašto istorijos,  Rokiškio dvaro ir Liongino Šepkos drožinių  ekspozicijas. Muziejuje nuolat organizuojamos parodos, kultūriniai renginiai.
Nuo 2012 m. vykdomos skaitmeninimo veiklos, muziejus dalyvavo projekte Europeana Photography.