Represented by the gracious cornflower, the national symbol of Estonia, the II Europeana Space International Conference took place in Tallinn on 10-11 December 2015 organized by the Estonian Ministry of Culture.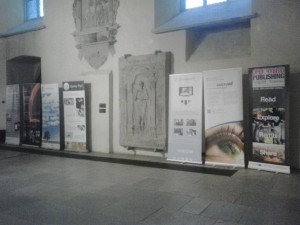 Read here the chronicle of the event!
The video recordings of the conference are available on the E-Space YouTube Channel.
The event included interesting keynote speeches, two round tables of experts, a poster session for the project Pilots and a loop presentation of the project educational demonstrators. The presentations that were showed are available at the links below.
Download the conference flyer A4 (PDF, 288 Kb)
PROGRAMME OF THE EVENT:
Day 1: Thursday 10th December 2015
13.00-13.30 – Registration
13.30-15.00 – I session: Opening - chaired by Raivo Ruusalepp (Estonian National Library)
14.20-15.05 – Artistic Process as Hackathon: Collaborative Practice as the Engine of Invention, Mark Coniglio (Troika Ranch):
15.15-15.45 Coffee Break
15.45-17.00 – II session: Forward thinking – chaired by Antonella Fresa (Promoter SRL)
Culture & Creatives: how to strengthen the bond and boost re-use, Milena Popova (Europeana Foundation) – (PDF, 5.4 Mb)
Round table on lessons learnt from Europeana Space

Pilots and Hackathons, including interaction with the audience.

Participants: Kelly Mostert (Sound and Vision), Kamila Kuc (Goldsmiths), Jonathan Shaw (Coventry University)

, Carla Fernandez (Universidade Nova de Lisboa), Fred Truyen (KU Leuven), Gregory Markus (Sound and Vision), Milena Popova (Europeana Foundation)
17.00-18.00 – Networking session
19.00 – Concert at the Tallinn Christmas Jazz festival
Day 2: Friday 11th December 2015
9.00-9.30 – Registration
9.30-10.45 – III session: Heritage and Creativity - chaired by Hembo Pagi and Andres Uueni (EVK)
10.45-11.00 Coffee Break
11.00-12.20 – IV session: Creativity as an opportunity of growth in the cultural sector - chaired by Luigi Perissich (Confindustria Servizi Innovativi e Tecnologici – Italian technology Platform Future of Internet) (PDF, 580 Kb)
12.20-12.30 – Closing Remarks by Sarah Whatley
12.30 – 13.30 – Lunch
13.30-16.00 – afternoon activities and excursions, 3 alternatives:
DIGITAL STAGE OF THE EVENT: