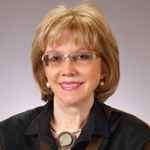 Joyce Ray is program coordinator of digital curation and senior lecturer in museum studies at Johns Hopkins University. She previously held senior positions at the US National Archives and Records Administration and the US Institute of Museum and Library Services (IMLS).  At IMLS she directed grant programs that awarded approximately $40 million annually to libraries, museums and archives for projects that included the development and promotion of standards, best practices and innovation in digitization and digital curation. From 2011 to 2014 she held visiting professorships at University College London and Humboldt University in Berlin.  She has published on digital curation topics in numerous professional publications and edited a book, Research Data Management: Practical Strategies for Information Professionals, published by Purdue University Press in 2014. She has been at Johns Hopkins University since 2014.
Joyce's presentation at the E-Space conference in Berlin
Digital Curation:  Making the Most of It
One thing that can be said for certain about digital curation is that there is no single agreed definition.  That leaves a lot of room for healthy debate and interesting conversations. However, without recognition of the importance of standards for the creation and long-term stewardship of digital assets, there will be no digital assets in the future with the characteristics of authenticity, discoverability and understandability that enable confident re-use and re-purposing.  Models, standards and protocols form the base that supports emerging innovative and transformative uses of curated digital assets.  This talk will consider the development of digital curation from its origins to its present value and future promise.